Dispense Pancake Batter With Ease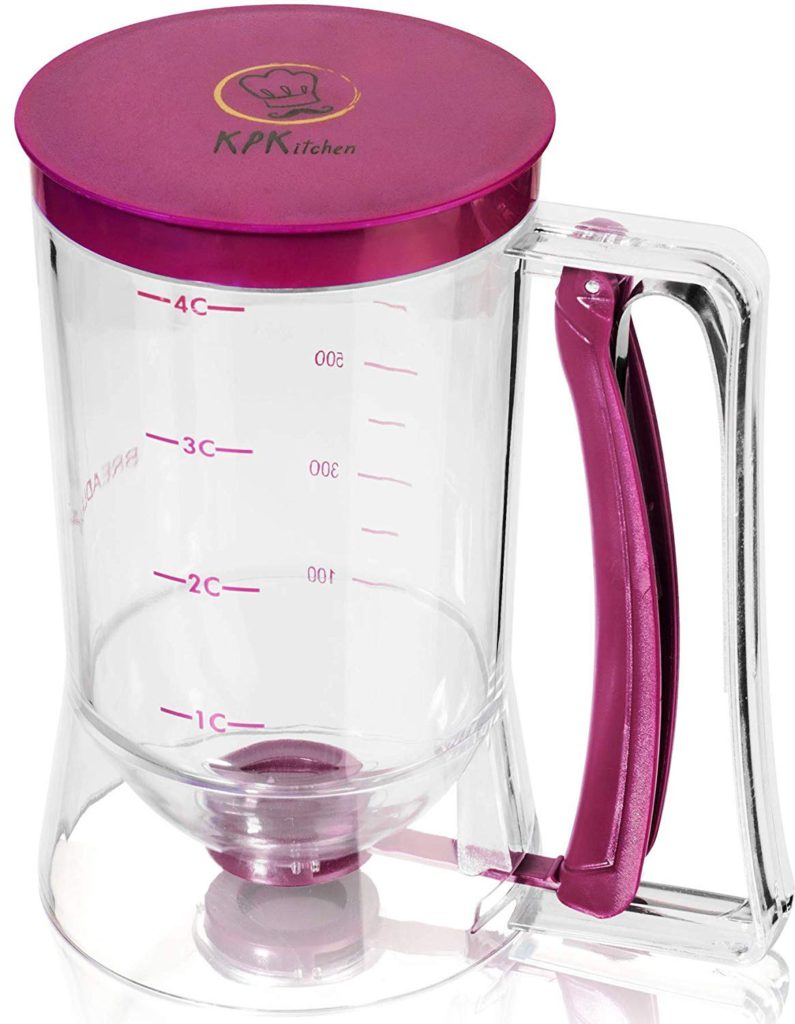 If you are like most homemakers, you have to make batter for waffles, pancakes, muffins, crepes, cakes, and donuts. The objective is making them all the same size which can be a hassle. Now, those worries are over by using the best pancake batter dispenser by KPKitchen. This nice easy pour kitchen gadget holds up to four cups of batter. By using the easy pour handle, you can pour out batter in equal amounts going into cupcake cups and on the griddle. The dispenser is made with high quality material that is BPA-Free and even a child can use.
The hole at the bottom of the container is ½ inch wide allowing thick batters to fall through with ease which helps make consistent portions. The plastic is 100% BPA-Free and comes with a lifetime warranty if you are not satisfied with the product. What a deal.
This device will dispense batter for all types of baking batters in controlled portions. All it takes to dispense the batter is a light squeeze of the handle. The valve is fail safe and durable.
So, if your family enjoys eating pancakes, waffles, muffins, donuts and crepes, you need a batter dispenser and this one fits the bill perfectly. With your order, you get a cupcakes and pancakes recipe eBook that has seven recipes in it just for trying the product out in your kitchen.
You can even use this dispenser for church socials and pancake breakfasts.
Video of KPKitchen Batter Dispenser
Product Description
This is a batter dispenser that will dispense batter in equal portions for pancakes, waffles, muffins or any other batter mix of your choice. This will become a versatile kitchen appliance accessory you will be using over and over again. It also comes with a free recipe eBook and has a lifetime guarantee if something should go wrong with the dispenser.  You have the option of getting a refund or a free replacement. The cover is removable for easy cleaning in the dishwasher.
Product Description
Manufacture: KPKitchen
Dimensions: 8 x 5 x 9 inches
Weight: 12 ounces
Material: Plastic
Capacity: 4 cups
Marking Measurements: Cups & Milliliters
BPA-Free: Yes
Warranty: Lifetime (Register at official website)
Official Website: https://shop.kpkitchen.eu
Email Support: customer-support@kpkitchen.eu
In The Box: 1 Dispenser & eBook (download required)
Product Rating and Customer Reviews
This product is rated 4.5 stars out of 5 by over 1,797 customers which is excellent. You can read all of the reviews for this product by clicking on the following link: Customer Reviews!
Questions People Are Asking
This product has 79 answered questions. You can read all of them by clicking on the following link: Answered Questions!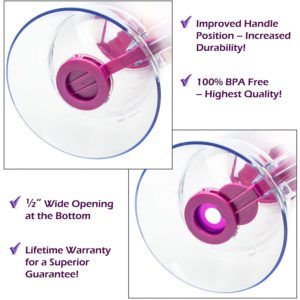 Below is a sample of some of the questions about this product.
Question: Anyone has used it for keeping the pancake batter from the fridge?
Answer: Yes. We have made pancakes on Saturday and had enough left over for Sunday. We popped ut in the refrigerator and it was just fine the next day. Batter is just a tad thicker. Just let it set for a couple of minutes and it will be fine.
Question: Has the handle been recently fixed as far as not breaking within the first few times of using it?
Answer: I have used mine many times and had no problem with the handle. Works great!
Question: Where is this product made?
Answer: It is made in China.
Question: How long can you store extra batter?
Answer: Place leftover pancake batter in a tightly covered container and then place it in the back of the fridge. Pancake batter can last this way in your refrigerator up to five days.
Question: Where is the recipe book?
Answer: In general we send around the free Cupcakes and Pancakes Recipes eBook in a mail after your purchase. If you haven't received your recipes eBook please contact us via customersupport@kpkitchen.eu or directly through amazon's messaging system and we'll send it again.
Question: After reading many reviews of your dispenser I'm a little hesitant to purchase. Does the handle still break on many or have you made design changes?
Answer: My dispenser is as good today as the day I bought it! I've not had a single problem with the handle or anything else about it!
Question: How do you clean this by hand?
Answer: Usually submerge in soapy water and clean inside with a dish rag. I follow by leaving half full of soapy water, placing lid on and shaking. After few seconds squeeze the trigger and continue shaking while water runs out. Wipe bottom with a dish rag and rinse. Easier to clean if you rinse immediately after use. This item can also be placed in the dishwasher as well.
Question: Warranty on KPKitchen.eu/warranty site does not let me register warranty?
Answer: We're sorry to hear that you are not able to access our warranty site. Please don't worry, you can contact us via customer-support@kpkitchen.eu and we will manually register you for your warranty.
Conclusion
In our opinion this gadget will bring you many years of satisfaction. The batter dispenser is easy to clean and provides controlled portions of any batter mix. Whether you are making pancakes, waffles, crepes, or cupcakes, this dispenser will do a great job. You will be glad this utensil is part of your kitchen accessories.
PROS
Dispenses batter for all types of baking.
Cleaning is a breeze using the dishwasher or by hand.
Comes with a lifetime warranty.
Has a 4-cup batter capacity.
BPA-Free plastic.
CONS
Price.
Made in China.
Shop KPKitchen Batter Dispenser
You can shop for this KPKitchen batter dispenser by clicking on the image below. You will be taken to Amazon where you will can check out the latest price and place the order.
As an Amazon associate, I earn from qualified purchases.
Did not find what you were looking for? Enter a search term in the Amazon Box below to search on Amazon for other products.
Go back to the Pros Cons Shopping home page.
KPKitchen Batter Dispenser
$18.99
Dispenses Equal Portion Batter for all Mixes
9.0/10
Material Is BPA-Free
9.5/10
Lifetime Warranty
10.0/10
Pros
Dispenses Batter In Equal Portions.
Easy To Clean.
Material is BPA-Free.
Holds up to 4 cups.
Lifetime warranty.
Cons
Price.
Product is made in China.