Best Oil For Stovetop Popcorn – Mimic Theater Popcorn At Home!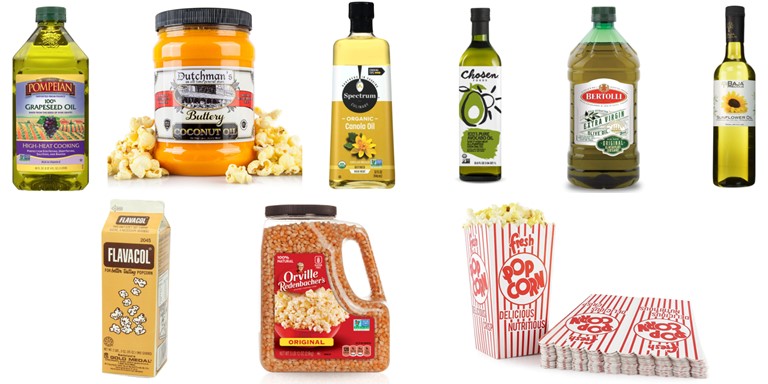 Introduction
Best Oil For Stovetop Popcorn will make for great tasting popcorn. In some cases to mimic the taste like it was made in the movie theater but only at home.
There are many types of oils on the market that will add to the popcorn taste. It depends on the flavor the oil adds to the popped kernels. You must decide on which type of oil is best for you and your family.
We will be presenting some oil choices you can use when making popcorn on the stove and not the microwave. Many families and individuals like the taste of theater popcorn and try to duplicate it at home with bad results.
Our goal is to change that so you can duplicate theater popcorn.
Video – Making Theater Popcorn At Home
This is an excellent video showing you how to achieve the theater popcorn taste at home. Take a look!
Theater Popcorn Secrets Revealed
Most theaters use either coconut or canola oil when making their popcorn. So, if you want to mimic theater popcorn in your home, you must use coconut or canola oil. Note: The coconut oil used in theaters is buttery betacarotene flavored. This give the popcorn its golden yellow look. The next ingredient is trying to match the popcorn kernels they use. Theaters use yellow kernels.
The number one choice for home use is Orville Redenbacher's because of its smooth flavor that's distributed evenly through the popped kernels. Next, is Jolly Time, and then Act II. Try to find these brands of loose kernels.
There is no difference between white or yellow kernels. About 99% of movie theaters use yellow kernels. The main reason for using these kernels is the corn pops bigger and looks better in the popcorn machine. It also pops to a sturdier flake and stands up to flavoring which is what we like.
The biggest secret of movie theater popcorn is the Flavacol seasoning they use while the popcorn is popping. Flavacol is added to the oil then the kernels. While the corn is popping, the Flavacol flavor is added to each kernel as it pops. That's what gives the popcorn the taste that is just out of this world.
So, if you want to try to duplicate the theater taste of making popcorn at home is use yellow kernels, coconut oil or canola oil, and Flavacol.
Of course, you can use other oils which will be mentioned below. You may have to experiment with the oils and Flavacol.
Try Other Oils
You can use other oils to make excellent tasting popcorn at home. Each of these oils that are mentioned below are great for popcorn popping on the stove.
If you are going to use the stovetop for making popcorn, the following oils are the best.
Walnut Oil – Great source of nutrients and antioxidants including Omega-3's. It has a low 320 degree smoking point.
Avocado Oil – Helps improve eye health. It contains vitamin E and helps the body absorb other fat-soluble vitamins. It has a high smoking point of 375 – 400 degrees.
Extra Virgin Olive Oil – Very nutritious and contains large amounts of antioxidants. It has a smoking point of 350 – 400 degrees.
Extra Virgin Organic Coconut Oil – Helps to improve digestion and absorption of nutrients. Good for oily skin and hair. It has a smoking point of 350 degrees. Most movie theaters use this oil.
Sunflower Oil – Does not have any health benefits but has a high smoking point of 440 degrees.
Canola Oil – It has plenty of essential fatty acids and excellent for helping the body absorb necessary nutrients. It has a high smoking point of 435 degrees. Some movie theaters use this oil.
Grapeseed Oil – Is rich in vitamin E and Omega-6 Fatty Acids and contains natural antioxidants. It has a smoking point of 420 degrees. It's recommended for making gourmet popcorn.
Peanut Oil – It does contain vitamin E but also some saturated fats. If you are not allergic to peanuts, try using this oil it has a high smoking point of 450 degrees. It gives the popcorn a nutty flavor.
Bacon Grease / Lard – Bacon grease give the popcorn a strong bacon-like flavor. It has a smoking point of 374 degrees. This is an old-school taste enthusiast's tradition that just like the taste of the popcorn when it is cooked in this oil.
There you have it, the oils you can use when cooking popcorn on the stove. Just select the type of oil that you will enjoy and the entire family.
The Best Way To Make Movie Theater Popcorn
Below are the steps you should follow to make great tasting stovetop popcorn.
Step 1: There is a short ingredient list. Be sure to have popcorn kernels 1/3 cup, oil 1/2 cup, Flavacol, and a pot with a lid. The total time to take is about 10 minutes from start to finish. Be sure that the pot is heavy-bottomed that disperses heat evenly so there are no hot spots to burn the popcorn.
Step 2: Set the temperature to medium heat, add the oil and the proper amount of Flavacol to the oil. Follow the directions on the Flavacol carton. Test the temperature of the oil by adding 2 popcorn kernels. When they pop, you can put the rest of the kernels in the pot and place the lid on the pot.
Step 3: After adding the rest of the kernels, remove the pot from the heat and let it sit for one minute.
Step 4: After one minute, return the pot to cook the kernels on medium heat. While popping, tip the lid slightly to release steam. If the steam is not released, the popcorn will lose its crispness. Occasionally shake the pot to ensure the loose kernels cook evenly. After the kernels have finished popping, remove from the heat and top with your favorite toppings of your choice if you want more flavor than Flavacol that's already on the popcorn.
Note: If you don't want to use Flavacol, then add the two kernels and when they pop add the rest. Then follow steps 3 and 4 above. After popping, add the toppings of your choice.
Oil Ratio To Kernels
As for oil quantities, you will need 1/2 cup of oil to 1/3 cup of popcorn kernels.
However, the topic that causes the most debate about stovetop popcorn recipes is the oil to popcorn ratio.
Chef Jessica Koslow, owner and chef at Sqirl in Los Angeles, has developed a popcorn recipe in which she has doubled or tripled the amount of oil.
She then adds only dry seasoning to the extra-crisp popcorn to keep the crunch. In her own words, the extensive amount of oil gives the kernels an extra-crunchy exterior and "potato chip sturdiness." Specifically, she recommends using 1/2 cup oil to 1/3 cup corn. That is our recommendation for you to use.
Conclusion
We presented many different oil options you can try when popping your own popcorn at home. Depending upon your taste, you should be able to find an oil to your liking.
We shared the secret ingredient that movie theaters use when making their popcorn that we all like so much. By using this ingredient you can try to duplicate the movie theater taste to family and friends. Now, you can make family movie night a treat just like you are at the movie theater.
Lastly, we shared how to cook popcorn using the stovetop.
Now, enjoy making your popcorn just like you would be eating in the theaters but only at home!
Shop Popcorn Oil and Supplies
As an Amazon Associate I earn from qualifying purchases.
Below you can shop for the popcorn oil and supplies that includes oil, yellow popcorn kernels, Favacol and popcorn boxes for serving. Just select the image and you will be taken to Amazon to place the order.
–