Keep Pop, Water, & Beer Cold in Office or Dorm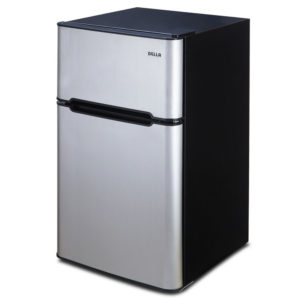 You may be asking yourself just what benefit does a mini refrigerator have for me? Well, the answer is very simple. If you have a high school graduate who is going off to college, these will fit very nicely in the dorm. They will keep water, pop, and other small food items that need refrigeration nice and cold. The Best Mini refrigerator will provide information on the best-selling refrigerators for your money.
Another advantage of mini refrigerators is if you live in a small apartment or studio. This appliance will fit nicely in any small area and saving space of having to buy a regular size refrigerator. Small refrigerators also come in handy when you have to defrost the large one. You can place important foods in the mini one as the larger fridge is defrosting.
The cost of the smaller refrigerators are getting more affordable. Generally, the mini fridges will cost anywhere from $100 to $300 dollars depending upon the model, space and cubit feet needed.
If you are planning a large gathering of people, having a small refrigerator on hand to keep beverages cold will come in handy.
Benefits (Pros) of Mini Refrigerators
 Below are a few of the benefits of owning a mini refrigerator.
 

Additional storage space for bottled drinks, meat and foods.

Compact and fits nicely into small areas.
Nice addition to have at the office or the office in the home.
Allows defrosting of the large refrigerator without spoiling food during the defrosting period.
A nice addition to a college dorm, rec room or basement.
They are much lighter than a regular refrigerator.
Easy to lift and move into other areas.
Great for small apartments or studios.
Easy to transport between locations.
Require less energy and saves you money on the electric bill.
Less expensive and affordable than regular size refrigerators.
Problems (Cons) with Mini Refrigerators
Above, we presented the benefits of mini refrigerators. Now, we would like to list the problems you may encounter owning a mini refrigerator.
Many mini refrigerators don't have a defrost feature and defrosting will be required periodically.
Freezer sections will experience a build-up of a thick layer of frost.
Potential of leaking especially if the fridge is full – Need to monitor hoses and connections.
Another area of concern is mold – A build-up of mold takes place when it's not wiped out on a regular basis.
Stops cooling. 1). This is caused when the fridge is overstocked and causes the door to not close properly to seal out the air. 2.) Because of its small size, it's easy to hit the thermostat when loading food and drinks into it.
Limited warranties. Many manufactures limit the warranty period of these small units.
When purchasing a mini refrigerator you will need to take into account the good and bad of the appliance. Then decide to make the purchase. Another factor to consider is how much are you willing to spend? This will be determined by your budget.
As you can see, there are some benefits of owning a mini refrigerator like keeping beverages cold for large parties or other type of celebrations. The chief benefit is they don't take up a lot of space and can easily be moved around from one area to the next.
Our Top Choices
 Below are the top six choices of mini refrigerators. When you click on an image, you will be taken to Amazon to see the latest price.
As an Amazon associate, I earn from qualified purchases.
#1. hOmeLabs Beverage Refrigerator & Cooler
Brand: hOmeLabs
Weight: 68.3 lbs.
Dimensions: 17.3 x 18.9 x 33.3 inches
ASIN: B0786TJC33
Capacity: 120 Standard Cans
Color: Stainless Steel & Black
Rating: 4.5 by 834 Customers
Interior Lighting: LED
Advanced Temperature Control: Yes
Auto Defrost Function: Yes
Power: 120V 240 Watts
Removable Racks: Yes
Annual Energy Cost: $35
Temperature Range: 34 – 50 Degrees F
Warranty: N/A
#2. hOmeLabs 3.3 Cubic Feet Refrigerator Cooler
Brand: hOmeLabs
Weight: 43.6 lbs.
Dimensions: 17 x 18.5 x 32.8 inches
ASIN: B07M8D777B
Capacity: 3.3 Cubic Feet
Color: Stainless Steel & Black
Rating: 4.4 by 175 Customers
Removable Glass Shelves: 3
Temperature Control Modes: 3 (Min., Med., & Max)
Freezes Ice: Yes, Use Med. or Max. Mode)
Write on It: Yes (Use wax crayon or dry erase marker)
Door Storage: Yes
Power: 120V 240 Watts
Warranty: 2.5 Years

hOmeLabs Mini Fridge 3.3 Cubic Feet
#3. NewAir NBC060SS00 Beverage Cooler 60 Cans
Brand: NewAir
Model: NBC060SS00
Weight: 37.2 lbs.
Dimensions: 18.9 D x 16.8 W x 10.8 H inches
ASIN: B07PKD9N93
Capacity: 60 Regular Cans or 1.6 Cubic Feet
Color: Stainless Steel, Black
Rating: 4.7 by 24 Customers
Temperature Range: 34 to 64 Degrees F
Thermostat Settings: 5
Storage Use: Food & Drinks
Power: 110 V 85 Watts
Amps: 1.3 amps
Frequency: 60 Hz
Noise Level: 39 dB
Racks: 1
Refrigerant Type: R-134A
Warranty: 1-Year


NewAir Mini Fridge 1.6 Cubic Feet
#4. Galanz Mini Fridge 2.7 Cubic Feet
Brand: Galanz
Model: GL27S5
Weight: 44 lbs.
Dimensions: 21" L  x 18" W x 26" H
ASIN: B01MZAT7WE
Colors: Black, Red, Stainless Steel
Rating: 4.4 by 153 Customers
Capacity: 2.7 Cubic Feet
Separate Ice Chamber: Yes
Power: 120 Volt, 96 Watts
Door Reversible: Yes
Unit Works on 110 Receptacle: Yes
Racks/Shelves: 2, Slide Out Wire
Door Type: Single
Warranty: N/A

Galanz Mini Fridge Stainless Steel 2.7 Cubic Feet
Conclusion
So, there you have it. The top four mini refrigerator freezers and coolers to make serving drinks to company a lot easier. These mini fridges do come in handy during the holidays, birthday parties, graduations, and anniversaries. Or course, makes for a great addition to the office, kitchen, basement and college dorms.
These small fridges also can store food as well. They also fit into small areas. They add additional storage of beverages for those big parties. Don't forget that these mini fridges need defrosting.