Filter Tap Water Without The Impurities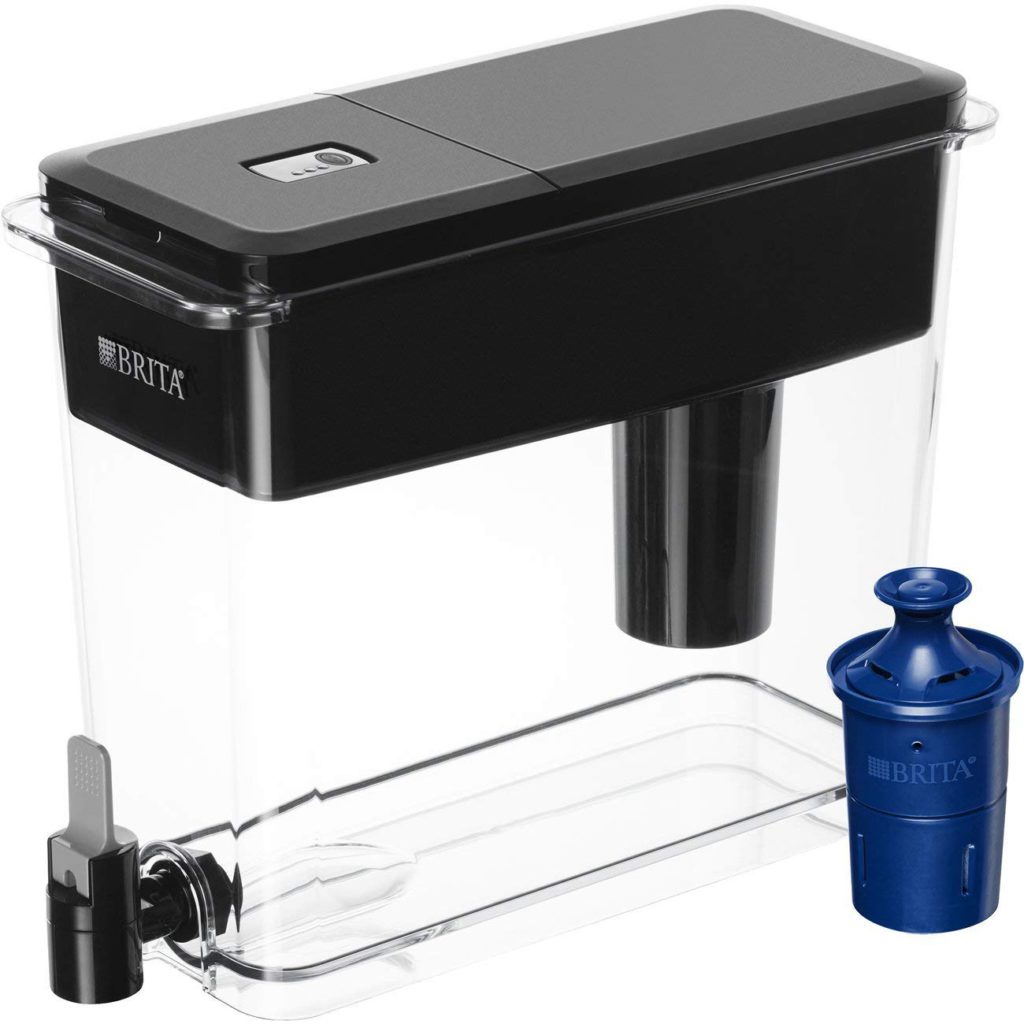 As you know humans cannot live without water. Our bodies compose up to 65% of water as adults. Drinking wholesome water is a must to keep hydrated. Tap water contains some impurities and it's important to remove them. The best filtered water dispenser to do that is the Brita filtered water pitcher. It has a nice design to fit anywhere on the counter or the refrigerator. The tap water impurities will vary from region to region.
Depending upon where you live your tap water might contain lead, chlorine, cadmium, mercury, copper and benzene. The Brita filtered water dispenser filter is certified by WQA to remove 99% of lead and reduce chlorine taste and odors and other containments such as copper cadmium, cadmium, benzene and mercury. The filter is BPA Free.
The pitcher has an easy to pour spigot to make it simple to dispense water for drinking and food preparation. Refilling the pitcher with water is also a breeze to do. The filter is also easy to install.
The Brita water dispenser has an 18 cup or 1.13 gallons of water capacity. It fits nicely on the countertop or in the refrigerator. The filter will filter up to 120 gallons of tap water before it needs to be replaced or about six months. In case you forget to change the filter, there is an electronic reminder to indicate the filter needs changing. What a marvelous idea.
This water dispenser uses both the standard or Longlast filters. The differences between them are:
Standard Filters up to 40 Gallons or 2 months before replacing.
Longlast filters up to 120 gallons or 6 months before replacing.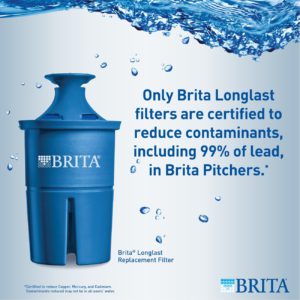 The dispenser comes with a Longlast filter.
Because it dispenses water easily, you can teach small children to get their own water throughout the day to keep hydrated. Do not wash dispenser in the dishwasher. Use mild detergent to clean dispenser.
I think you will agree that this water dispenser is the best of the bunch and makes for a great gift for any occasion.
Product Description
This water dispenser provides healthier and great-tasting water and has an 18 cup capacity. The large capacity makes the water filtration system great for busy families, sports teams and offices. It's sleek design allows it to fit nicely on the counter or service area. The lid is easily removed for refilling. The filter indicator lets you know when it's time to change the filter. It removes up to 99% of the lead in water and reduces the chlorine, cadmium, mercury, and benzene that might be found in the tap water in the home.
Product Specifications
Manufacture: Brita
Dimensions: 14.57 x 6.1 x 13.7 inches
Colors: Black
Weight: 3.9 lbs.
Capacity: 18 cups or 1.13 Gallons
Filter Life: 120 Gallons (Longlast), 40 Gallons (Standard)
Filter Duration: 6 Months (Longlast) 2 Months (Standard)
Compatible Filters: Longlast & Standard
BPA-Free: Yes
Filter Change Reminder: Yes
In The Box: Dispenser, Reservoir, Longlast Filter, Instruction Booklet and Stickers (To remind you when to change the filter)
Getting Started Tips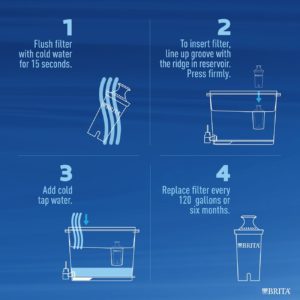 Below are a few tips you can follow when getting started with your water dispenser for the first time.
Wash your hands with soap and water before removing the filter from the bag.
Hand wash the pitcher/dispenser, lid and reservoir using a mild detergent.
Flush the filter with cold tap water for 15 seconds before inserting into the dispenser.
After inserting filter into reservoir, fill with cold water. Disregard the first filling of water in the dispenser as it contains carbon dust. Use this water for plants or discard it.
For best results, when filling reservoir, pour tap water on the side of the reservoir rather than directly on top of the filter. Allow water to filter completely before pouring or refilling reservoir.
Product Rating & Customer Reviews
This water dispenser is rated 4.3 stars out of 5 by over 3,431 customers which is very good. If you wish, you can read all of the customer reviews by clicking on the following link: Customer Reviews!
What Questions People Are Asking About This Product
Below are just a few of the 406 questions people are asking about this product. You can read all of them by clicking on the following link: Answered Questions!
Question: Is this dispenser compatible with the Longlast filters?
Answer: Yes it is. You can use both the Standard or Longlast filters in this dispenser.
Question: Is it OK to add fruit to the dispenser to infuse into the water?
Answer: Yes you can. However, if the fruit is added to the water after it has been filtered, it should be okay. We recommend washing your dispenser regularly if you allow for fruit to sit in the bottom.
Question: Where is this dispenser made?
Answer: The dispenser is made in China, and the filters are made in the USA.
Question: Is filtered water kept safely at room temperature?
Answer: Yes it is.
Question: Can you make juice or crystal light in this pitcher or is it strictly for water?
Answer: While don't recommend adding flavorings to water within our Brita systems, if you intend to do so, be sure to add it after the water has been filtered to ensure that the flavoring doesn't clog the filter or get filtered out. Manufacture
Question: How long does it take to filter 18 cups of water?
Answer: About 20 minutes.
Conclusion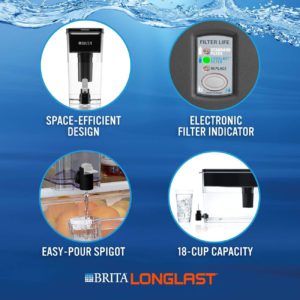 Filtering out the containment's of our tap water is an excellent way for having better tasting water for drinking and cooking. It also saves the cost of buying bottle water and saving the planet of all that plastic. Providing your family with water without all those containment's is healthier and great for the pocketbook.
The filter that comes with the dispenser can filter up to 120 gallons of water. So, you won't have to be changing filters very often. Depending upon the amount of water being used, the filter should last about 6 months before it needs to be replaced. It's also a great new way to stay hydrated all throughout the year.
These dispensers also make for great gifts for any occasion.
PROS
It's certified by WQA to remove up to 99% of the lead in the water. It also reduces the chlorine (taste and odor), cadmium, mercury, benzene, asbestos and more found in tap water.
The plastic is BPA-Free.
Large reservoir holds up to 18 cups of water.
The filter filters up to 120 gallons of water before it needs to be replaced.
Has an electronic indicator to inform you that the filter needs to be changed.
CONS
Price.
Does not remove fluoride, calcium, and magnesium from the water.
Shop Brita Water Dispenser & Extra Filters
You can shop for the Brita water dispenser by clicking on the image below. You will be taken to Amazon where you can place the order and see the latest price.
You will also find image links for the Standard or Longlast filters below and will be taken to Amazon to place the order and see the latest prices.
As an Amazon associate, I earn from qualified purchases.
Longlast Filters
Standard Filters
| | | |
| --- | --- | --- |
| Six Pack | Single Filter | 3 Pack |
Did not find what you were looking for? Enter a search term in the Amazon Box below to search on Amazon for other products.
Go back to the Pros Cons Shopping home page.
Brita 18 Cup Water Dispenser
$27.99
Certified To Remove 99% of Lead In Tap Water
9.5/10
Plastic Is BPA-Free
9.5/10
Reservoir Holds 18 Cups
9.0/10
The Filter Lasts For 6 Months or 120 Gallons
9.5/10
Electronic Indicator Notifies You When To Change Filter
9.0/10
Pros
Certified to remove 99% of lead in tap water.
It's BPA-Free
Has an 18-cup capacity.
Filter has a 6-month life or 120 gallons.
Electronic indicator tells you to replace the filter.
Cons
Price.
Does not remove fluoride, calcium, and magnesium from the tap water.