Makes Adding Fresh Spices To Recipes A Lot Easier!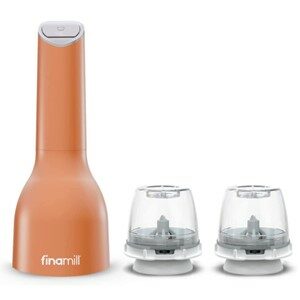 Introduction
The best electric spice grinders will allow you to grind many different types of dry spices using only one hand. Some brands have interchangeable spice pods to hold different spices. This is a great way to add seasoning to your cooked meals when the recipe calls for specific spices. Some grinder models can be adjusted for the type of grind you want, course, medium or fine.
Spice grinders use spinning blades to grind up the spices and dispense the fresh spice into your recipe giving it a better flavor. Adding spices to meals or at the table can never be easier.
Below are some of the best electric grinders that use batteries for power with no cord, and those that use electricity.
Is A Spice Grinder Worth It?
If you are a nifty home cooker that calls for fresh ground seasonings to the meals you prepare, then having an electric grinder is worth it. Various brands that offer different types of grinding which will make cooking those favorite dishes a lot easier. This grinder can be used at the dinner table for those who like add additional spices to their meal.
What's The Difference Between A Coffee & A Spice Grinder?
Coffee grinders and spice grinders are designed to perform differently. Spice grinders almost always use spinning blades to grind up the spices by chopping them into smaller pieces. But coffee grinders use burrs, which help achieve a different result due to their grinding process.
Spice grinders are intended to chop a variety of spices that use a different texture. These kitchen aide tools are not intended to grind up coffee beans. Yet, there are some spice grinder models that can perform the dual role of grinding coffee beans and spices.
What To Look For In Spice Grinders
The most common feature in spice grinder should be the ease of use and the second one do they allow for adjusting the coarseness. Some brands offer their product can be used with one hand. This is ideal when cooking meals that call for adding different spices so you can keep stirring while adding the spice.
Some brands of grinders offer pods that can be interchanged all by using one hand. Each pod has a spice to be used separately.
All chefs know how important flavor is to their recipes. By adding fresh spices verses those that come from the jar are far better in flavor and taste.
How To Clean Your Spice Grinder
As you use your spice grinder, it may become dirty and difficult to clean as you are using different spices. Or, you have to change spices, and some can leave an odor that remains in the grinder. If you have some difficulty in cleaning the inside of the spice grinder, check out how to clean it below.
To clean your spice grinder, do the following:
Put 1 tablespoon of any kind of rice in the grinder.
Grind the rice for 7 seconds.
Dump the grinded rice into the garbage.
Take a towel or paper towel to wipe out any excess residue.
The grinder should be clean and as good as new.
Pros & Cons
Below are some of the pros and cons of a spice grinder.
PROS
Versatile
Easy To Use
Able To Adjust The Coarseness Settings
More Flavorful Meals
Some Models Can Grind Coffee Beans
Provides Fresh Seasonings To Recipes
CONS
Batteries Must Be Replaced
Must keep a supply of batteries on hand
Some models only grind spices and not coffee beans
Electric versions have short cords
Some models are loud
Conclusion
We shared some of the features that the spice grinders use. Some use electricity or batteries to power them. You will need to decide on which type is best for your needs.
We also shared a way to clean your spice grinder using rice. See "how to clean your spice grinder" above.
Spice grinders are a great tool to use because they dispense fresh spices to your recipes on the spot. You can also use them at the table for your family to use and add additional spices to their meal.
Be aware that for battery powered models you will need to have some spare batteries on hand to replace the old ones with they die out.
The electric spice grinder models have short cords so be sure you have an outlet near the stove when preparing meals that require adding spices.
Shop Electric Spice Grinders
You can shop for both the battery and electric spice grinders below. You will be taken to Amazon to place the order. On the FinaMill grinder, we have included links for ordering additional pods for the grinder.
As an Amazon associate, I earn from qualified purchases.
Go back to the Pros Cons Shopping home page.