Let A Machine Peel Fruits & Vegetables
Most homemakers peel fruits and vegetables for creating salads or French fries and other meals. These fruits and vegetables are normally peeled using a hand peeler. Which will take time to do. If you should suffer from arthritis or other hand ailments, it just might be difficult for you to do. Now, you can let an appliance do this job. There are two types of fruit peeler corers and they are manual turn or electric peelers. Both of these will be explained. Read on to find out the best apple peeler and corer are for both electric and manual machines..
Manual Hand Turn Peelers
These peelers have a hand crank that you manually turn. As you turn the crank, the fruit is peeled, cored or sliced at the same time. The unit has a suction cup that will adhere to the counter top so it won't move while turning the hand crank. These units are great for peeling potatoes, apples and other fruits that have skin to be peeled.
Basically, this machine peels, slices, and cores all in one motion. You have three cutting options:
Peel, Slice and No Core
Slice and No Core
Whole and Peel with Core
When the peeling is finished, the machine leaves a long rind peel which can be used for other toppings in salads or other foods. Because of multiple settings, you can place various sizes of fruits or vegetables on it.
Video – Manual Cranking Peeler
Below is a video showing how this manual peeler works using all three options.
Electric Peelers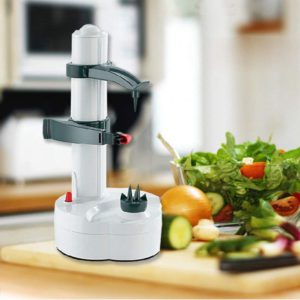 Electric peelers are designed to work using either a battery or electric power. Some units come with the A/C attachment and no batteries. While others come with neither. Most use 4 AA batteries to operate.
Place the fruit or vegetable on the base and slide down the arm to the top of the fruit or vegetable being peeled. Place the blade arm to the top of the fruit or vegetable being cut. With a gentle pressing of a button, the machine begins to work.
The blade unit starts peeling the skin off fruits, or vegetables. As the cutter is removing the skin, the arm of the blade moves down as it cuts. When it reaches the bottom, it shuts off, leaving one long rind peel. Which can be used for other things. So, nothing goes to waste.
The benefits of the manual or electric peelers is that it prevents waste. The electric unit allows for various sizes of fruits or vegetables to be skinned.
The electric peelers can peel potatoes, sweet potatoes, tomatoes, zucchini, apples, pears, oranges, lemons, persimmon, mango, kiwi, cucumbers, radishes, papaya and other smooth fruits and vegetables.
Video On Using An Electric Peeler
This is an excellent video showing how an electric peeler peels different fruits and vegetables.
Best Hand Crank Peeler
Our choice for the best hank crank peeler is the CucinaPro. It is made with chrome cast iron which should provide many years of service. It peels, slices and cores all in one motion. This machine is best for apples and potatoes. It has a suction cup so it can adhere to any surface where you want to peel. The blades are made with stainless steel and are sharp. The appliance is easy to clean when you are finished peeling.
This item is rated 4.5 stars by 259 customers.
Manufacture: CucinoPro
Material: Chrome Cast Iron
Job: Peels, Cores, & Slices in One Motion
Suction Cup: Yes, For a Strong Hold
Weight: 1.55 lbs.
Dimensions: 12 x 4.2 x 5.2 inches
Best Electric Peeler
Our choice for the best electric peeler is the Starferit Rotato Express 2.0. This model can peel all types of fruits and vegetables that have smooth skins. It operates on 6V adaptor or 4 AA batteries. Here is what you get in the box:
Starferit Rotato Express 2.0 Peeler
6 Replacement Blades
Thumb Knife
6V Adaptor
Cord Length: 31 Inches
Batteries NOT Included
Dimensions: 5.5" L x 5.5" W x 11" H
1-Year Manufacturer's Warranty
Why Get A Peeler?
You may be asking why I should get a peeler. Well, the short answer is if you have difficulty in peeling fruits or vegetables using a hand peeler, then, this appliance is a must. The unit does all the work. Yes, on some fruits or vegetables there may be a little removal of skin by hand, but the main job of removing the skin is done by the device.
The next decision that needs to be made is which type of peeler I use. If you just are peeling apples or potatoes, the hand crank model is fine. If you want to expand the skinning of fruits and other vegetables, the electric unit is best.
Either way, you come out a winner.
Shopping Peelers
Below are some additional apple core peelers and electric peelers. Click on any image to get the latest price on Amazon and to place the order.
Hand Crank Core Peelers
| | | | |
| --- | --- | --- | --- |
| Spiralizer Core Peeler | Victorio Kitchen Products Core Peeler | Gorgeous Gorgeous Appler Peeler | VICTORIO Peeler W/2 Extra Peeling Knives & 1 Coring Slicing Blade |
Electric Peelers
| | | | |
| --- | --- | --- | --- |
| SUPOW Electric Peeler | BBT Shop Electric Peeler | YOUDirect Electric Peeler Red | CreazyBee Electric Peeler |
Did not find what you were looking for? Enter a search term in the Amazon Box below to search on Amazon for other products.
Go back to the Pros Cons Shopping home page.