Home Baking Made Easier With The Bellemain Sifter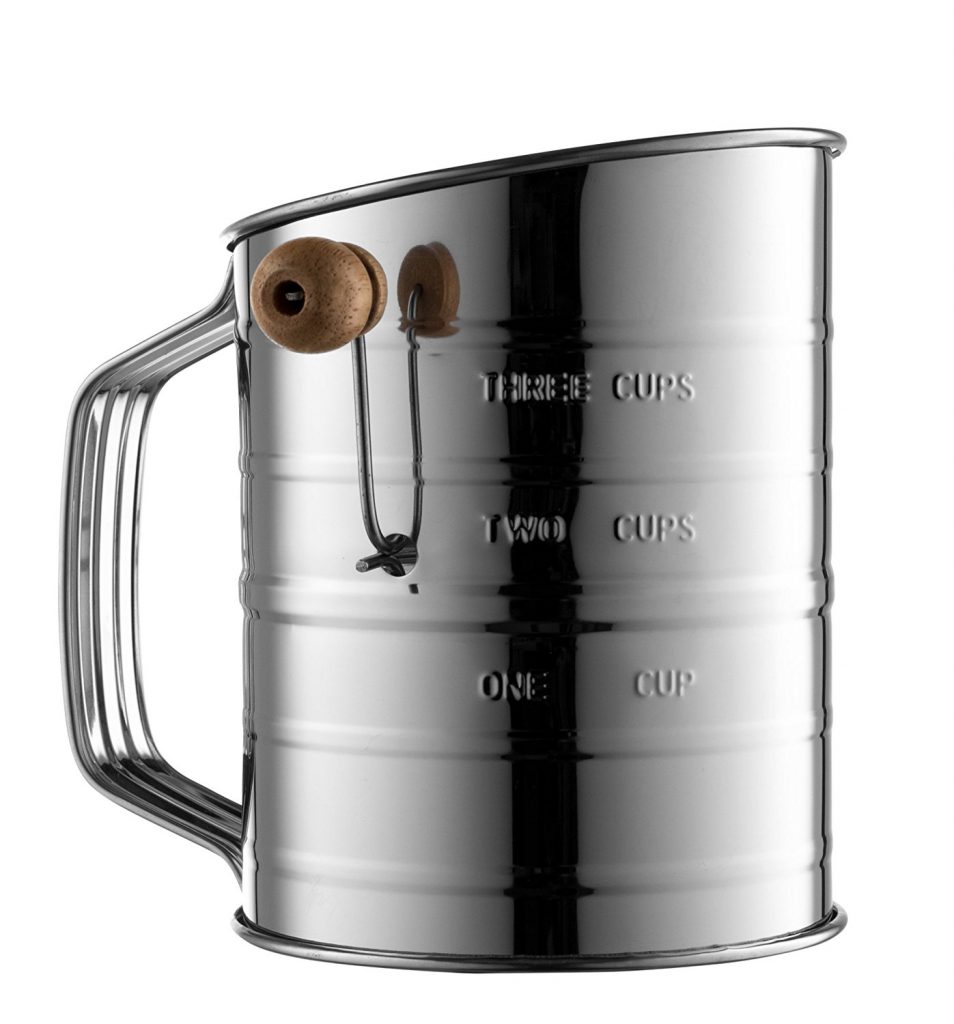 Learn More or
Home baking just got a lot easier with the Bellemain Stainless Steel 3 Cup Flour Sifter. Why? Because, this item is strong and lightweight and holds 3 full cups of ingredients that need to be sifted for better quality baked goods. A good sifter is a valuable accessory in the kitchen for the serious baker of the family. It is very easy to use even if you should suffer from arthritis.
This particular sifter is made with stainless steel which is lightweight and is stronger than aluminum or plastic so it should give you excellent results and will last for a long time. Because it's stainless steel, it won't rust.
So, if you are planning on baking muffins, pie crusts, cakes, or breads, you can crank them out using this reliable flour sifter to do the job.
If you are going to use coarse ingredients like oat bran and almond meal they can be a challenge for lesser sifters. The Bellemain Sifter can process them easily without any added pressure and then moves on to confectioners' sugar and cocoa powder without missing a beat. It aerates the dry ingredients smoothly to give you lighter, fluffier sifted dry ingredients for great tasting baked goods.
For instance, another nice feature of this sifter is if you need to fill it to the 3 cup line, the flour or the ingredients will not come out on the side where the sifter handle is. This puts this above the rest of the sifters out there.
This item makes a great gift for anyone at anytime of the year.
Bellemain Stainless Steel Flour Sifter Video
A short video on how this flour sifter works. Take a look!
BRAND: Bellemain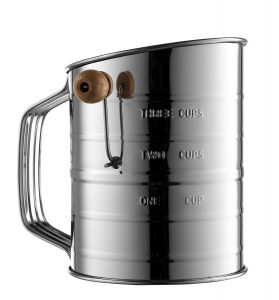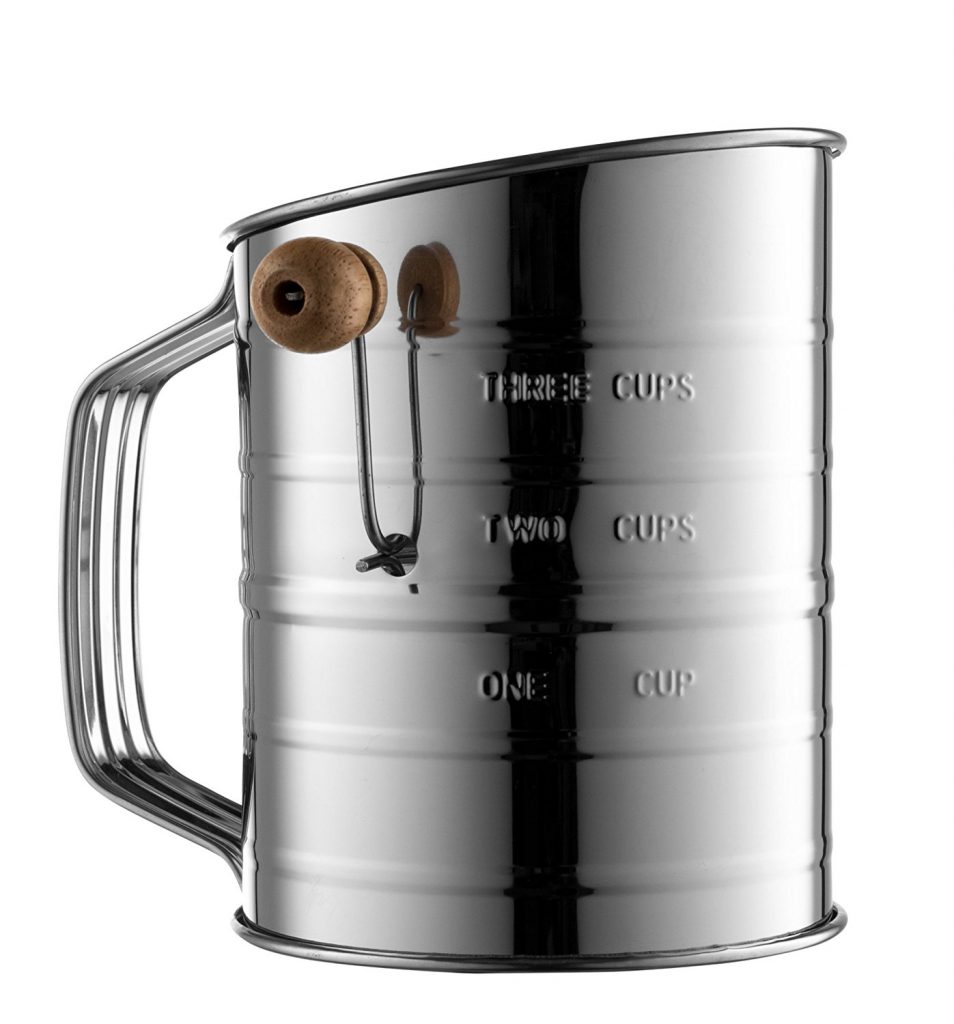 NAME: Bellemain Stainless Steel 3 Cup Flour Sifter
DESCRIPTION: The Bellemain Sifter is strong and lightweight and holds 3 full cups of ingredients that need to be sifted for better quality baked goods, and has the following features: 3 Cup Capacity, #1 Best Seller, Made of Stainless Steel, 225 Mesh Holes Per Square Inch, Dishwasher Safe, Mesh Size 4.5 Inches in Diameter, Dimensions 6 x 5 x 5 inches, Weighs 4 Ounces, Color Silver, Model Number TRTAZ11A.
CATEGORY: "Kitchen & Dining", "Kitchen Utensils & Gadgets"
PRODUCT #: B00XIIHKFO
REVIEW RATING: 4.8 stars, based on 1,229 reviews
Product Specifications
Below are the specifications for this product.
Manufacture: Epica Products
Model Number: TRTAZ11A
ASIN: B00XIIHKFO
Dimensions: 6 x 5 x 5 inches
Weight: 4 ounces
Color: Silver
Material: Stainless Steel
Mesh Holes Per Square Inch: 225
Made: China
Sifter Type: Single Screen
Mesh Size: 4.5 inches in Diameter
Product Pricing
The price for this product is provided to consumers so they can compare them with other similar products.
Note: The price of this product is subject to change without notice and may not be the actual price at the time of purchase.
Product Rating & Customer Reviews 
Rating: [usr 4.7]
This flour sifter was rated by over 1,592 customers. There are over 1,330 five star reviews about this product.
You can read all of the customer reviews for this product by clicking on the following link: Customer Reviews!
What Questions Are Customers Asking?
Below is a sample of the questions customers are asking about this sifter.
Question: Any issues with rust?
Answer: None.
Question: Is this sifter easy to clean?
Answer: Very easy to clean when following the instructions that come with the product.
Question: What are the diameters of the opening and exit areas?
Answer: 4 1/2 inches from top to bottom.
Question: Is the screen fine enough to leave most of the germ and bran behind when sifting 100% wheat flour?
Answer: Yes it is.
Question: Where is the sifter made?
Answer: China.
Question:  I have arthritis in my hands and am worried it will be hard to turn?
Answer: The handle is very easy to turn. I've already used it several times and am very happy with it.
You can review all of the 37 answered questions concerning this product by clicking Here!
PROS
Strong & Lightweight – This sifter holds up to 3 full cups of ingredients and the measurements are stamped right into the metal on the inside as well as the outside for easy reading.
Reliable Hand Crank – Most chefs like to use a hand crank-style sifter which this one is. This one stands up to repeated use without tiring your hand. No multi-layers of mesh for ingredients to get stuck in.
Double Loop Agitator – Lumps of flour and sugar sometimes get left behind to clog the mesh screen when using squeeze handle models. This one cranks smoothly that captures everything. Works well with fine and coarse flours like almond meal and oat bran.
Easy To Use – Bakers that have arthritis will not suffer and have weak hand strength since this sifter has a hand crank that operates smoothly and effortlessly.
Rust Resistant Stainless Steel – This model sifter is made with stainless steel that is rust resistant. It is also stronger than aluminum or plastic. You will be using this item for years.
Affordable Price – The model sifter is not expensive and will not put a dent into your budget.
CONS
Will not sift clumpy salt.
Shop Bellemain Sifter
Shop the Bellemain Stainless Steel 3 Cup Flour Sifter. Click the Buy Now button below. Place your order now and be glad you did.
Didn't see what you are looking for? Enter your search term in the Amazon box below to go to Amazon and browse other products.
Go back to the Pros Cons Shopping home page.
Bellemain Stainless Steel 3 Cup Flour Sifter
$10.50