BEAUTURAL 1800 Watt Steam Iron Makes Ironing Easy!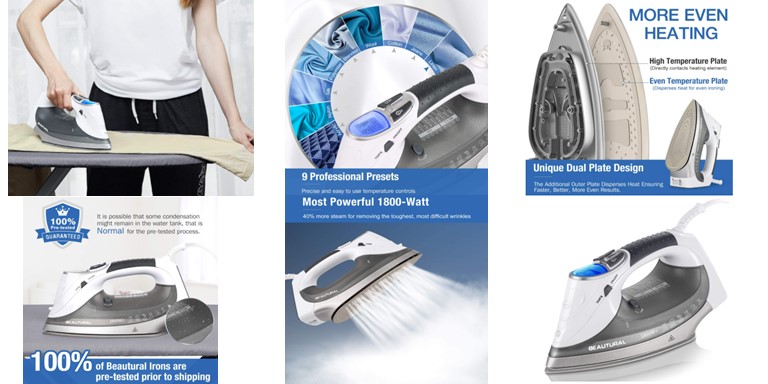 Introduction
The BEAUTURAL 1800 Watt Steam Iron stops the guesswork so you don't burn clothes by selecting the correct fabric type. It's all pretested before it comes to you. With safety features like auto shut-off, anti-clean, anti-drip, LCD digital display, and 9 preset temperature settings, it makes using this iron a breeze.
The double ceramic soleplate is coated and non-stick and super scratch resistant for easy gliding performance when ironing any fabric. It also provides for even heating of the entire soleplate.
This steam iron has an LCD display screen that has 9 preset fabric settings to make them easy to select. You also have options to select dry ironing of specific fabrics.
When the iron sits motionless for too long it will automatically shut-off to prevent burning and fire. When lying flat or on its side, 30 seconds. Eight minutes when sitting in the vertical position.
What sets this iron apart from its competition is the dual ceramic soleplate design provides for even heat distribution across the plate. It makes the iron more durable and easier to clean and maintain. It also provides for a smoother glide over fabrics than those models that have stainless steel soleplates.
Video – Beautural 1800 Watts Iron Review
Below is a short review of this iron in action and its features. Take a look!
BEAUTURAL Iron Features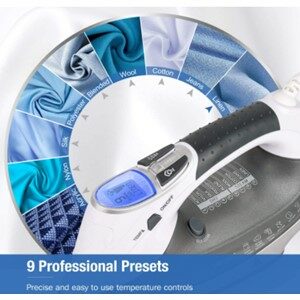 Below are the benefits about the features of this steam iron.
ASIN: B071HFP57N
Model: 724NA-0001
Weight: 3.18 Lbs.
Dimensions: 11.3 x 4.88 x 5.75 inches
Steam Holes: 77
Voltage: 110-120V
Watts: 1800
Amps: 15
Accessories: Measuring Cup
Water Tank: 11.5 Ounces
Cord Length: 8 Feet
Warranty: 90 Days Full Refund, 2-Years Limited
LCD Display Screen – Easy to see the correct fabric to iron
9 Preset Modes – The iron will heat to the correct temperature without any guessing
Ceramic Soleplate – It's super scratch resistant and provides even heat distribution
3-Way Auto Shut-Off – 8 minutes of no activity in vertical position, 30 seconds when horizontal or on its side
Anti-Calcium – Automatically filters the water in the tank to prevent calcium build-up to maintain peak performance and increase the life of the iron
Anti-Drip – Prevents leaks when it's at lower temperatures so you don't have to worry about any water stains while ironing
Self-Cleaning System – Use the self-cleaning system to clean the internal soleplate and flush out loose mineral deposits
Pretested – The iron is pretested at the factory to ensure it works properly before it's delivered to you
Dry Ironing – You can dry iron using settings 1 to 5
Vertical Ironing – This iron allows you to iron drapes or clothes in the upright or vertical position
Water Spray & Steam Burst – Buttons on top of the iron allow you to select spray water or a burst of steam while ironing
Using The Self-Cleaning Feature
Follow the steps below for using the self-cleaning feature of this iron.
Fill the water tank to MAX line and slide off the variable steam switch.
Plug in the iron, keep it on its heel rest and set up the temperature to Level 9. Allow it to heat about 3 minutes.
Unplug the iron and hold it over a sink with the soleplate facing down.
Press and hold the Self Clean button and gently shake the iron side to side and back to forth. Be careful as the hot water and steam will come out from the steam vents.
Continue to press the Self Clean button until water tank is emptied.
Repeat the self-cleaning process if the water tank still contains lots of impurities.
When finished, release the Self Clean button, stand the iron on its heel rest and plug it in. Allow it to heat about 2 minutes to dry out any remaining water.
Store iron away after it cools.
PROS
Anti-Drip
Anti-Calcium
Self-Cleaning Function
3-Way Auto Shut-Off
LCD Digital Display
9 Preset Fabric Settings
Dry Ironing Option
Iron Pretested At Factory
Ceramic Coated Soleplate
Great Customer Support
 CONS
Made in China
You might blow a fuse because of the wattage
Required an adaptor to be used overseas
Conclusion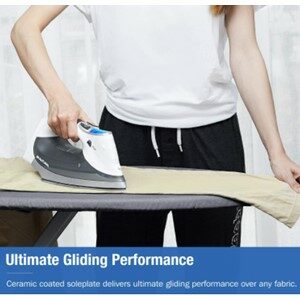 This is another great steam iron that is affordable. It comes with a 90 day full refund return policy and a 2-year limited warranty. The iron heats up quickly so you are not waiting long to begin your ironing.
The iron comes with a measuring cup for putting water into the reservoir. It uses tap water for the steam function.
You will like the LCD digital display in selecting 1 of 9 preset settings for the type of fabric that is going to be ironed.
The iron is rating of 4.6 stars by over 10,140+ buyers of the product. It also has earned Amazon's Choice and is a Prime Shipping product.
This product is one of seven we recommended in our article. You read about them by clicking HERE!
Shop BEAUTURAL 1800 Watt Steam Iron
You can shop for this iron by clicking on the image below. You will be taken to Amazon where you can place the order, read customer reviews and answered questions.
As an Amazon associate I earn from qualified purchases.
–
Go back to Pros Cons Shopping home page.