Make Your Beard or Mustache Look Great!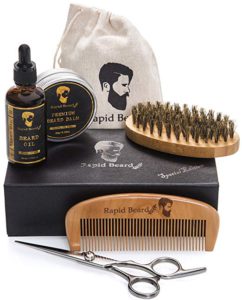 A lot of men today are beginning to grow beards or mustache that needs to be groomed and trimmed. By doing this makes the beard or mustache look neat and nice. Beards and mustaches grow at different rates and periodically require grooming and trimming. The Beard Grooming and Trimming Kit has all the tools needed to take care for these needs. This makes for good beard health, texture, and aesthetics.
The kit contains unscented beard oil, unscented beard balm, 100% boar bristle beard brush, wooden beard comb, and one pair of stainless steel beard scissors. The scissors has an adjustable bolt for firmness or lessor firmness when cutting or trimming. These tools make for easy styling, shaping and taming the beard and mustache.
Look For The Right Products
You have to be careful to get products that takes care of itchy, dry, brittle, coarse, poorly trimmed beard care. So, along those lines, the kit ingredients include; beard oil and beard balm are made with argan oil, and jojoba oil with vitamin E oil. These ingredients are 100% natural and organic.
The beard oil and balm have the perfect formula for keeping the facial hair and skin hydrated, moisturized, silky soft, healthy and groomed during the day. It also eliminates itching and dandruff which is a major concern.
The bristle beard brush has natural boar bristles that helps to distribute oil, improve hard hair texture, styling, shaping, smoothing and conditioning. The wooden comb is made with tender care that will leave hair feeling smooth.
It is packaged in a nice premium gift box that can be given as a Christmas gift, birthday, or anniversary celebration for those in the family with beards or mustaches. It makes for a great get your beard in order gift for that special someone.
By using this kit your beard or mustache will look great at all times. Using the oils to keep your face from itching and dandruff. This tool kit is great for long, short, thick, thin, coarse, and tangled hair.
Rapid Beard Video
Below is a short video of a review for the Rapid Beard product and what is inside the box.
Beard Grooming Tips
Below are some great tips for keeping your beard looking good all the time.
The beard oil is really not for the beard but for the skin. By messaging it underneath the beard and onto the skin will keep your skin from getting flaky and dry. Do this every day. Don't forget the mustache skin area.
Another great tip is when trimming your beard do not do it when the beard is wet. Only trim it when it's dry.
When growing a beard for the first time, do not trim your beard for the first ninety days.
Avoid using plastic beard combs to comb your beard. Use wooden ones. The plastic teeth have a tendency to break and parts remaining in your beard and then comb hair unevenly.
Avoid using bar soaps and body washes. Use an all-natural beard wash for cleaning the beard.
If you are growing a beard, you must stop smoking as it stunts hair growth.
By following the above tips, you will have a beard that you will like and be comfortable with. Remember, do not compare your beard with others. All beards are not the same and will have some type of imperfection. Be happy with yours.
Product Specifications
Manufacture: Rapid Beard
ASIN: B071RTF9HN
Products Include: Beard Brush, Beard Comb, Unscented Beard Oil, Leave-In Conditioner, Mustache & Beard Balm Butter Wax and Barber Scissors
Product Description
Products are made with pure and organic ingredients for the beard oil and balm and are unscented. Easy to style using the brush and comb. It comes packaged in a luxury gift box for easy storage when not in use and also makes for a great gift. The kit is great for grooming and trimming beards and mustaches. It comes with a pair of scissors, beard oil, beard balm beard brush, comb, and travel pouch to hold the items in.
Product Pricing
The price of this product is provided to consumers so they can compare them with other similar products.
Price: $29.97
Note: The price for this product is subject to change without notice.
Product Rating & Customer Reviews 
Rating: [usr 4.5]
This product was rated by over 950 customers. You can read all of the 950+ customer reviews of this product by clicking here!
What Questions Are People  Asking About This Product
Below are some of the questions people are asking about this product.
Question: Is the balm unscented?
Answer: Yes.
Question: Does this product help thicken the beard?
Answer: Yes, with the proper application of the balm and washing of the beard using the appropriate cleaning shampoo.
Question: Will this product help my beard grow?
Answer: No. It helps with managing your beard and mustache.
You can read all of the 43+ frequently asked questions about this product by clicking here!
PROS
Uses Natural Pure Organic Ingredients.

Styling is easy.

Perfect for all types of beards and mustaches.

Great for all hair types.

Unscented conditioner, softener and moisturizer.
CONS
Price.

All the product items may be difficult to place inside the travel pouch bag.
Shop Beard Grooming & Trimming Kit
You can shop for this grooming and trimming kit by clicking on the "Buy Now" button below. You will be taken to Amazon where you can place the order.
Other Beard Grooming Trimming Kits & Beard Washes
Just click on any image below to place the order on Amazon.
As an Amazon associate I earn from qualified purchases.
Beard Care Kits
| | | |
| --- | --- | --- |
| | Naturenics Premium Beard Care Kit | Rapid Beard Shampoo Wash and Conditioner |
| | | | |
| --- | --- | --- | --- |
| Rapid Beard Care Kit | Beard Growth Thickening Shampoo & Conditioner | Beard Grooming Kit | Leven Rose Conditioner Beard Wash |
Go back to the Pros Cons Shopping home page.