Wattage Requirements During A Power Outage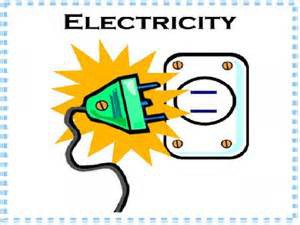 Living in an area that experiences power outages during storms can be a burden and heartache. By knowing some of the basic wattages for household appliances will help you determine the proper size generator that will be needed for the job. Sometimes these outages can last for hours and even days. You need to consider how to preserve food and feed family members during the outage.
There are many common household appliances and tools that can be used during a power outage. A generator can fill that need and give you a peace of mind too. The tool and appliances needed during a power outage will vary from family to family and where you live.
Below is a chart that shows the approximate number of running watts as well as the additional start-up watts required for the tool or appliance when it's connected to the generator. It's important to know all of the running and start-up wattage for all tools and appliances so you know the size generator you need to buy. The chart below will be helpful so you can determine the approximate wattage requirements for your situation.
The topics that will be covered here are mentioned below. Just click on the topic of interest and you'll be taken directly to that section. Or you can scroll down to view them all.
Power Outages Can Be Handled By Generators
When a power outage strikes, the only way to combat this situation is operating a generator. A generator's basic function is to provide electric power during power outages. There are three types of generators for home use on the market today and they are:
Portable Inverter Generators
Portable Standard Generators
Stationary Generators
All of the above generators can be connected to your house current by using a transfer switch. This is installed by the certified electrician.
Back to Basic Wattage For Household Appliances topics.

Portable Inverter Generators
Inverter generators produce what is called clean power as they operate. Clean power will allow you to run sensitive equipment like computers during a power outage. The issue with these models they only have a maximum of up to 4000 watts and that may not be sufficient power to run all of the required appliances during a storm. These units are lighter than the standard generator and can be carried from one location to another easily.
Back to Basic Wattage For Household Appliances topics.

Portable Standard Generators
Portable standard generators come in various sizes from 500 to 50,000 watt models. They will provide enough power to supply your needs. There drawback is they will not be able to power any sensitive equipment because of irregular voltage that may cause brownouts or power surges. These models are portable because they have wheels attached to the frame for moving them from the storage area to the proper location for operation and back when the power is restored.
Back to Basic Wattage For Household Appliances topics.

Standby Generators
The term standby generator is that they are stationary. Once placed, they stay in the location and cannot be moved. These generators usually power the entire house when an outage occurs. The unit automatically comes on even if you are not at home when the power goes out. These generators are very expensive. They do provide a peace of mind when you are away, even if the power goes out, they supply power to your whole house including the freezer, refrigerator, sump pump and other required electrical needs will be taken care of. When the power comes back on, the standby generator will automatically shut down.
Basically, you will have to decide on which generator best fits your needs. Again, these needs will vary depending upon your situation. Our aim here is to provide you with sufficient information so you can make an informed decision.
Back to Basic Wattage For Household Appliances topics.

Calculate the Total Watts Needed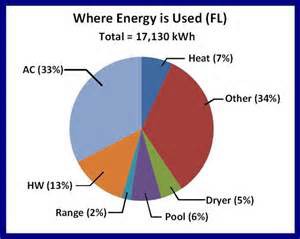 The first thing you need to do is to calculate all of your wattage requirements for the appliances you want to run during an outage.
Do this by, taking a sheet of paper and write down the tool or appliance from the chart that will be needed when a power outage strikes. Have two columns. One labeled Running Watts and the other Start-up Watts.
List the number of running and start-up wattage for every appliance or tool from the chart and place it in the appropriate column on your sheet. When completed, sum the Running Watts column. From the list of Start-up Watts, find the largest start-up wattage item and subtract its value from the running watts to get the net Start-up Watts.
For example: You have a deep freezer you want to include for generator power. It has 500 running watts and 1500 start-up watts according to the chart. 1500–500 = 1000. This number would be added to the total of the running watts column. For example, the total of running watts is 6500. Add 1000 to it for 7500 watts. You would need a generator that is rated with a minimum of 7500 peak watts and 6500 running watts to supply the power to operate all of the appliances on your list.
Once you know the generators power wattage requirement, you can shop for the generator you need.
Note: If you determine to operate some sensitive electronic equipment that is subject to voltage irregularities during an outage, you may want to consider using an inverter generator that produces a steady clean power verses the standard generators that do not.
Back to Basic Wattage For Household Appliances topics.

Common Appliance Household Wattage Chart
Below is a list of the most common household appliances and tools that maybe needed during a prolonged power outage.
Basic Wattage For Common Tools & Appliances
Tool or Appliance
Running Watts
Additional Starting Watts
Tool or Appliance
Running Watts
Additional Starting Watts
Home Essentials
Family Room
Light Bulb – 60 Watt
60
0
VCR
100
0
Light Bulb – 75 Watt
75
0
Stereo Receiver
450
0
Deep Freezer
500
1500
Color TV – 27 Inch
500
0
Sump Pump 1/3 HP
800
1300
Video Game System
40
0
Well Pump 1/2 HP
1000
2100
Other
Electric Heater
4000
0
Security System
500
0
Heating/Cooling
1/2 HP Garage Door Opener
875
2350
Space Heater
1800
0
Hair Dryer – 1250 Watts
1250
0
Humidifier 13 Gal.
175
0
Hair Dryer – 1500 Watts
1500
0
Furnace Fan Blower – 1/2 HP
800
2350
Curling Iron
1500
0
Furnace Fan Blower – 1/3 HP
700
1400
Office Equipment
Window AC – 10,000 BTU's
1200
3600
Computer w/17″ Monitor
800
0
Window AC – 12,000 BTU's
3250
9750
Fax Machine
65
0
Central AC – 10,000 BTU's
1500
4500
Laser Printer
950
0
Central AC – 24,000 BTU's
3800
11400
Copy Machine
1600
0
Heat Pump

Water Heater

4700

4000

4500

0

Play
Laundry Room
Electric Grill
1650
0
Iron
1200
0
AM/FM Radio
100
0
Washing Machine
1150
2250
CD/DVD Player
100
0
Clothes Dryer – Electric
5400
6750
Box Fan
200
0
Clother Dryer – Gas
700
1800
Work
Kitchen
Quartz Halogen Work Light
1000
0
Refrigerator/Freezer
700
2200
Airless Sprayer 1/3 HP
600
1200
Microwave Oven – 625 Watts
625
0
Reciprocating Saw
960
0
Microwave Oven – 1000 Watts
1000
0
Electric Drill 3/8″ 4 Amps
440
600
Coffee Maker
1000
0
Electric Drill 1/2″ 5.4 Amps
600
900
Electric Stove 8 in. Element
2100
0
Circular Saw 7 1/4″
1400
2300
Dishwasher Hot/Dry
1500
1500
Belt Sander
1200
2400
Food Processor
400
0
Air Compressor 1/4 HP
975
1600
Toaster Oven
1200
0
Air Compressor 1 HP
1600
4500
Toaster
850
0
Electric Can Opener
168
0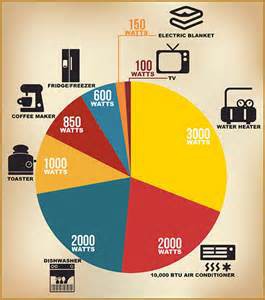 Note: If you have an appliance or tool is not listed above, look for the tag or label on the unit or device to find the watts needed to operate it and add it to the list above.
Another factor to consider is that you will not be starting up all of the appliances at the same time when the generator power is being used. However, if you do want to have all of these appliances to be on when generator power is used, be sure to purchase one that has sufficient power to cover the running and start-up wattages otherwise, you'll burn out the motor.
Back to Basic Wattage For Household Appliances topics.
What Household Appliance Uses The Most Watts?
The household appliance that uses the most watts will be determined on which appliances you actually need to use during an electrical outage. Through the process of elimination, the most important appliances that will be needed during an outage would be:
Refrigerator
Freezer
Electric Stove
Furnace
Air Conditioner
Water Heater
Lights
TV/Radio (Hear News Updates)
These are some of the basic appliances that you might consider in needing. However, depending on where you live may determine if any additional appliances are needed and eliminating some from the list altogether. It all depends on when the outage occurs during the day, night, and season. From the list above the water heater uses the most electricity to operate during an outage. If the outage lasts longer than 1 day, this may be important as you may not want to take cold showers. Also, if you should have any younger children living with you.
Remember, these appliances are all electrical so when the generator is active, all of these appliances should work during the outage. Don't forget the generator operates usually on gasoline. Be sure you have plenty on hand in case the outage lasts longer than 24 hours.
Some Miscellaneous Tips
Most of the portable inverter or standard generators operate on gasoline. It's highly recommended to add a fuel stabilizer to the gas to keep it fresh for up to one year. This will help prevent engine and carburetor problems later.
Another item to keep on hand is extra gasoline. During an outage it may be difficult to get gas as power may be out over the entire community or town. When storing fuel, it should be kept in the proper container and in safe areas. Be sure to add some fuel stabilizer to this gas as well to keep it fresh. Otherwise, gas gets stale after thirty (30) days and has to be discarded.
Always follow the manufacturer's instructions for performing maintenance of the generator. Replacing the spark plug, changing the oil and changing or cleaning the air filter, should be done as required. By doing this, it will keep your generator in tip top shape, and you'll not void the warranty.
Back to Basic Wattage For Household Appliances topics.