Automotive Rubber Floor Mats Increases Cars Resale Value
Introduction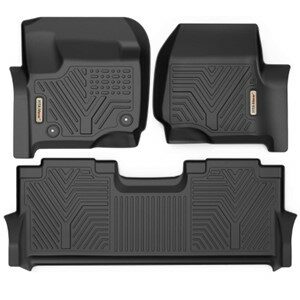 Automotive rubber floor mats are made to protect the carpet of your vehicle from all dirt and mud being tracked in. Keeps cars clean for longer periods of time.
The rubber mats are designed to be trimmed so they can be customize to fit any vehicle (cars, trucks, and SUV's). The vehicle mats are engineered so the mats will not curl, crack or harden in sub-zero weather. Besides keeping water, snow and mud in check, the anti-slip cleats keeps the floor mats in place.
If you have any kids, you probably experienced some spilling of liquids and food on the floor. The floor mats are an excellent way to protect your car's floor from these types of accidents.
Having floor mats is a great way to increase your cars resale value.
Benefits of Floor Mats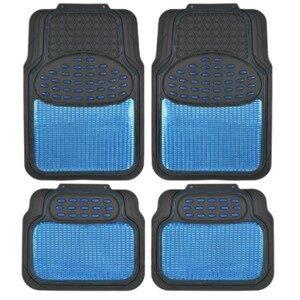 Below are some of the benefits of having floor mats in your car.
Protects interior from dirt, water, grime and spilled liquids
Enhances comfort and luxury
Makes the car's interior look good
Helps the car's resale value
Mats durability
Affordable
Cleaning floor mats is easy
The above are just some of the benefits of installing floor mats in your car. Some manufacturer's also have a mat for the trunk. If you protect the car's interior, don't forget to protect the trunk area too.
If you have recently purchased a new vehicle, you may notice that they come with carpet floor mats. They may look nice, but are harder to keep clean and require cleaning more often. I would upgrade them to rubber floor mats as soon as possible.
How Do The Floor Mats Come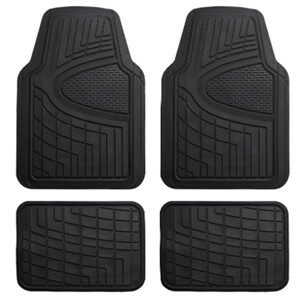 In new cars, the dealer would like to sell you their brand of floor mats for the car. These mats are generally more expensive than the ones you can buy yourself. When you drive the car home, you can secure the floor mats for your vehicle at your local autotive store.
When you go to an automotive store to purchase floor mats, they come in 2 piece sizes that fits the front of the car only. Or, you can purchase a 3 pieces that fits the front and rear. You can also get 4 pieces which fit each area in the front and rear separately. There are 4 pieces that fit the front, rear and cargo trunk area too. We highly recommend that you purchase floor mats for both the front and rear floor areas.
They also come in leather which are very expensive but makes the interior of the vehicle more elegant. The rubber mats are more afforadable.
When ordering the floor mats you may have to supply information on the type of vehicle you own. This is to ensure the floor mats ordered will fit your vehicle since they are customized for your car.
How Long Do Rubber Mats Last?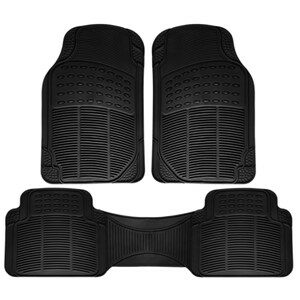 This is a good question. You don't want to keep replacing floor mats every year. If you purchase vinyl or the more durable urethane floor mats they should give you about 5 years of service under normal use.
However, keep a close eye on them after 1-year has passed. This is especially true if they encountered heavy-duty usage. If you should spot or notice some wear you might want to replace them.
PROS
Protects cars interior from all types of weather and spills
Water and moisture resistant
Easy to clean
Helps the car's resale value
Makes the interior of the car look good
Will not harden or crack in sub-zero weather
Anti-slip cleats keeps mats in place
CONS
May require some trimming to fit your vehicle
New car mats are carpet and require more cleaning
May have to upgrade to rubber floor mats
Having floor mats installed also can give you a peace of mind knowing your car's interior is protected from the weather, and other types of accidents that can happen with children.
Conclusion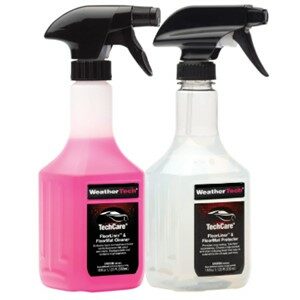 We shared information on floor mats about their benefits and how long they last under normal conditions. Also, when placing floor mats in your car can be useful when selling it. Protects the floor from spills, mud, snow, and water. They also give the interior of your car a better look.
If you purchased a new car recently it may have carpet type floor mats. They should be replaced with rubber as soon as possible. Carpet floor mats requires more maintenance to keep clean.
Look for rubber floor mats that can be customized to fit your car. This is done by allowing the customer to cut them to fit.
Shop Car Floor Mats
You can shop for the top rated car floor mats by clicking on any image. You will be taken to Amazon where you can place the order, read customer reviews and answered questions. Many of the options below offer a choice of colors besides the color of the image.
–