Automatic Soap Dispenser For Kitchen & Bathroom
Introduction
If you are like most people and especially if you should have kids around the house, trying to get them to wash their hands can be a chore. Using a soap bar can be  messy as it can slip out of their hands very easily and making a mess. Now, the Automatic Touchless Soap Dispenser can come to your rescue.
Automatic soap dispensers come in handy if you are cooking with raw meat and types of foods which require cleaning the hands. You can get soap without contaminating the faucet and other things.
For instance, some soap dispensers are made with stainless steel and sits on the counter or sink area and is activated by placing your hand next to the infrared sensor that will dispense the liquid soap. The amount of soap that it dispenses is also controlled by you. As some models allow adjustments of the soap by clicking a button which will dispense more or less soap.
So, a soap dispenser is also good in the kitchen as you don't have to touch anything after handling fresh fish or meat so germs will not spread on whatever is touched when trying to get soap to wash the hands. This is a great way to keep your home and surroundings germ and bacteria free as you will never have to touch a soap dispenser again, accept to reload it with fresh liquid soap when it runs low and to replace the batteries.
It is compatible with all kinds of liquid such as hand sanitizer and hand soap, and it is also suitable for hand or body lotion and disinfectant. However, it is not recommended in dispensing foaming types of liquids and hand cream.
Some models allow for them to manually turned off when you are away for long periods of time to preserve the batteries.
The batteries will need to be replaced and will vary anywhere from 3 months to one year depending upon how often the soap dispenser is dispensing liquid soap.
How Does It Work?
The automatic touchless soap dispenser uses an infra-red technology that automatically detects your hand under the dispenser and releases just the right amount of soap for you and your kids to clean dirty hands. The soap dispenser is very stylish and will modernize any kitchen or bathroom.
Most automatic soap dispensers requires 3-4 AAA batteries to operate and they are not included with the product. They must be purchased separately. The stylish design dispenser will modernize with any décor, perfect for your kitchen and bathroom.
The dispenser will continue to dispense soap until either the batteries fail or their is no liquid soap in the container.
Setting Up Soap Dispenser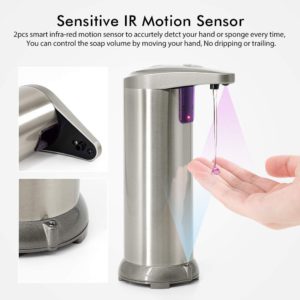 To assist you with the set-up process, follow the instructions below. Be sure to have the instructions that came with the dispenser as they detail where the battery compartment is and the number of batteries your unit requires.
Remove the battery cover and insert the required AAA batteries into the battery compartment. Be sure to follow the positive and negative positions of the batteries. Put the cover back on. Some dispensers may require a screwdriver to remove the cover.
Fill the reservoir with liquid soap to about three-quarter of its capacity and close it tightly.
Turn on the unit. Some models require you to push a button or place your hand near the sensor to activate it. Check the instructions for the specifics.
To adjust the soap liquid volume follow the instructions that came with the dispenser. Set the liquid release to your desired liking.
Put your hand under the sensor to let the dispenser start to work.
To turn off the dispenser remove your hand from the laser. Or, some models have on/off buttons.
PROS
1). Touchless & Easy To Setup – The sensor detects your hand within one pass by putting your hand under the sensor to let the dispenser start to work. Don't need to wave your hand multiple times.
2). Adjustable Dispensing Liquid – There are four different levels to adjust the soap liquid volume. With a 9.56 ounce capacity, will keep refilling to a minimum.
3). Durable & Long Working – This product uses the Japanese intelligent motion infra-red sensor, which improves the ability to resist aging and working hours. It can work about 15000 times as the no-touch and easy to use operation will only be activated when needed.
4). Anti-Leak & Waterproof – The anti-leakage and waterproof technology prevents the soap or water to corrode the circuit board. The waterproof base helps prevent the battery compartment from getting soaked in water which will cause corrosion and the dispenser will fail to operate.
5). Dissatisfaction Warranty Policy – The product comes with a 90-day refund or replacement for any dissatisfaction and a 1-year warranty.
CONS
 1). Removing the lid to insert batteries may be challenging.
2). Must purchase the AAA batteries before use.
3). Cannot dispense foaming type liquids.
4). Battery life will vary depending upon usage of the product.
Conclusion
For those of you concerned about bacteria and wanting to wash your hands, a touchless soap dispenser will come in handy. These units are very décor friendly and can be placed anywhere you want to wash your hands or have your kids washing their hands without having to use a bar of soap. Soap bars can be very slippery and can go all over the place on the floor making kids not wanting to wash their hands. Once you show your children how to use the dispenser, they will easy like it.
Another important issue about these dispensers it kids will think they are toys to play with. You may see liquid soap being all over the bathroom floor and other areas of the house. Be sure to instruct your children that the dispenser is not a toy to play with, but to wash their hands.
You can choose from different options like stainless steel, plastic and other materials. They come in multiple colors to fit any rooms décor.
They are not very expensive and they operate on AAA batteries witch must be purchased separately.
Shop Touchless Soap Dispensers
Shop the Automatic Stainless Steel Touchless Soap Dispensers by clicking on any image below. You will be taken to Amazon to place the order.
As an Amazon associate I earn from qualified purchases.
Go back to the Pros Cons Shopping home page.