Protect Your Electronic Devices During Power Surges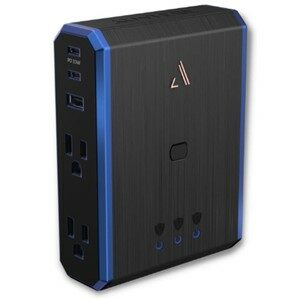 Introduction
Not all power surge protectors are created equal. The Austere surge protector provides a protective layer even with small spikes. Now, no more worries when you are away if your electrical equipment will be ok during thunderstorms.
This unit will sacrifice Joules to protect your electrical devices from power surges. Once the Joules have been depleted, the devices that are connected are no longer protected.
You will notice that one of the LED lights will no longer illuminate notifying you that the Joules have been depleted and will need to replace the unit.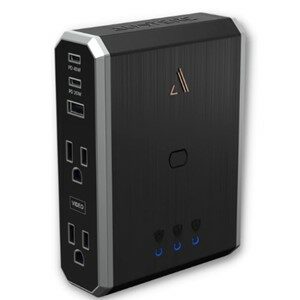 Austere comes with three different series models and they are:
Series III
Series V
Series VII
Each model has some additional features as you move up. However, as you move up in the series they do cost more.
All series models have a feature called a Type I PureFiltration that protects electrical equipment from EMI/RFI that helps to minimize the electrical line noise effects.
Another great feature is the flameless MOV Protection so that powerful surges will not result in a fire.
The OverCurrent Protection feature ensures that the power circuit cannot exceed 15 amps, which could cause devices to short circuit or lead to a fire.
This device is easy to install by just plug it into any three-prong outlet. It comes with a screw to permanently mount it to the wall.
The manufacture stands behind their products and protects the devices that are plugged into Austere Power in two ways: The Lifetime Guarantee – ensures your satisfaction with performance and protection. Second, the Component Guarantee – promises that if Austere Power is responsible for any damage to a plugged-in device, Austere will replace that device regardless of its value for up to 4-years for Series III, 5 years for Series V and 6 years for Series VII.
Video – Austere Series Surge Protectors Unboxing
This is an excellent video of the unboxing of all Austere Series Protectors. You will see the features for each as well.
Austere Series Features
Manufacture: Austere
Models: Series III, Series V, Series VII
Weight: Series III (10.9 Ounces), Series V (1.7 lbs.), Series VII (2.88 lbs.)
Dimensions All Models: 6 x 3 x 5 Inches
Surge Protection: 2500J (Series III), 3000J (Series V), 3500J & 4000J (Series VII)
USB Outlets: 1 USB-C & 1 USB-A (Series III); 1 USB-C, PD 20W, 1 USB-C & 1 USB-A (Series V); 1 USB-C, PD 45W, 1 USB-C, PD 20W, 1 USB-A (Series VII)
Outlets: 4 Smart Fit
A/V Noise Isolating Outlets: 2 Audio & 2 Video (Series VII)
EM/RFI Suppression: All Series
Peak Surge Rating: Series III (30kA) Series V (40kA) Series VII (40kA)
Power Rating: 15A & 187W (All Series)
Clamping Voltage: 280v (All Series)
Overcurrent Protection: 15A, 0.5s (All Series)
Status Indicator LED Lights: Protected, Grounded, & Powered (All Series)
Rapid Charge: This feature comes with Series V and Series VII Models
Warranty: Lifetime
Lifetime Guarantee: Series III (4 Years); Series V (5 Years); Series VII (6 Years 4 outlets), Series VII with 6 or 8 Outlets (7 Years)
Austere Surge Protector Comparison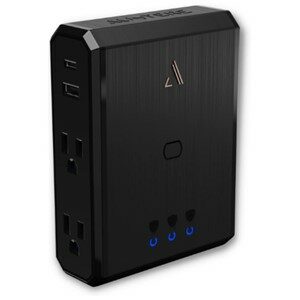 When comparing the Austere surge protector models, they all have some of the basic features. Below are the features that are different between models.
All the models have the following:
Same Dimensions
Picture Perfect Audio/Video
EMI/RFI Suppression
Flameless MOV Protection
Fire & Spike Safety
Lifetime Guarantee
Clamping Voltage 280v
Status Indicator LED Lights (Protected, Grounded & Power)
4 Outlets
USB-A
USB-C
Differences Series V
3000 Joules verses 2500 Joules Series III
5-Year Component Guarantee Verses 4 Years Series III
PD 20W Charging Port
40kA Peak Surge Rating
Type II Purefiltration
Differences Series VII
3500 Joules  and 4000 Joules Verses 3000 Joules Series V
40kA Peak Surge Rating
6-Year Component Guarantee Verses 5 Years Series V
PD 20W Charging Port
PD 45W Charging Port
Type III Purefiltration
How does The Power Protector Work?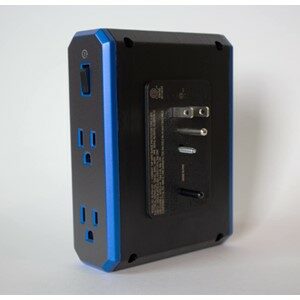 This device is very easy to install. You have two ways for installation. Option one, just plug it into any three-prong outlet and turn on the power switch and it's ready to be used.
Second option, you have the choice of screwing the device directly into the wall socket for a permanent fixture, so it won't be easily knocked off the socket. Turn on the power switch and it's ready to be used.
After the installation, just plug-in the electrical devices you want to protect from any potential power surges. Depending on the model you purchased, you have from 4 to 8 plugin power outlets for the devices.
Whenever you are away from home, just turn off the power switch on the protector and all attached electrical units are off. Or you can leave the unit on, and it will protect all plugged-in electrical devices using the devices internal Joules. Either way, your electronic devices are protected.
What Is A Joule?
A Joule is a unit of measurement of energy released over time. A surge protector joule rating indicates how much energy it can absorb before it fails. Energy is expressed in watts. A watt is the amount of energy (in joules) that an electrical device is burning per second. The conversion formula from watts to Joules is: 1 watt = 1 Joule per second.
For example, a 60W lightbulb burns 60 Joules of energy for every second it's lit up. A surge protector with 3,000 joules can absorb energy surges totaling up to 3,000 Joules. It's important to note that surges have a cumulative effect. Each time a surge occurs, the joules required to absorb the surge are permanently destroyed.
Therefore, with enough surges, the Joules will all be depleted, and the surge protector will no longer be effective. For example, if a surge protector with 800 Joules absorbs eight surges of 100 joules each, it will no longer offer any surge protection.
How Many Joules Do I Need?
Now, let's look at some of the minimum Joules needed for specific electronic devices.
500-1000 Joules
Chargers
Mobile Devices
Small Appliances
1000-2000 Joules
Laptops
Smart Home Devices
Routers
Smartphones
Tablets
2000 Joules & Above
Server
Switches
Printers
Workstations
Desktop Computers
HDTVs
PROS
Electronics protected from power surges when you are away
All series surge proctors have EM/RFI suppression
All series have flameless MOV protection
All series have status indicator LED lights
Lifetime guarantee
Fire and spike safety
CONS
Expensive verses other surge protectors
Once joules are used up the electronics are not protected
Conclusion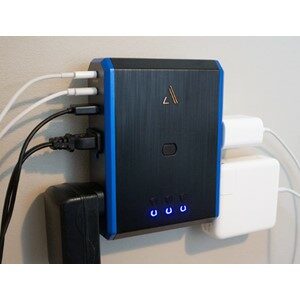 If you should own some very expensive electronic equipment, it is wise to protect them from power surges. The easiest way to protect them is using a surge protector. As we mentioned earlier, not all surge protectors are equal.
The Austere surge protectors come with Joules to protect any electronic devices connected to be protected from any power surge that may occur from the source of electrical current or thunderstorms.
The Austere not only has outlets to protect electrical units but also has Rapid Charge USB ports for charging other devices which is faster than the normal USB ports.
The Austere surge protectors comes with a component guarantee for any device that is plugged into it for 4 to 7 years, if it is damaged, depending upon the model surge protector purchased.
The company stands by its guarantee.
Now, no more headaches in worrying if any of your valuable electronic equipment will get damaged anymore because of these surge protectors.
Depending upon the model purchased, Joules will vary from 2500 up to 4000. Remember, once the Joules are used up the model will no longer protect any devices plugged in from power surges.
Regardless of the model purchased, it has an LED light informing you of the protection. Once the Joules are used up, the LED protection light will not light up.
Quick Shop Austere Surge Protectors
Shop now for the Austere surge protectors by selecting an image below. You will be taken to Amazon and place the order. You can read the customer reviews and answered questions.
As an Amazon associate, I earn from qualified purchases.
Series III Protectors
Series V Protectors
Series VII Protectors
Go back to the Pros Cons Shopping home page.