Learn To Code Line By Line
Where Coding Meets Creativity
Children today have the need to be challenged. As a parent or guardian you can now challenge them to code art drawings by using the Artie 300 The Coding Robot. This is a toy that draws on regular letter size or larger paper art work coded by your child. It helps your child develop their left and right-brain skills through coding. It's all done by the creativity of your child as to what Artie will do. It does have some pre-coded programs so your child can use them to help them get started and become familiar with the coding on the Artie 3000.
This toy is ideal for children above 7 years old. The robot uses washable markers for drawing. The unit itself comes with 4 different color washable markers to start.
The basic function of this drawing robot is to get your child introduced to coding and develop coding skills as they become familiar with the drawing features on the robot.
You do not need the internet to operate this robot. It is manufactured with its own internal Wi-Fi server. All you need is a tablet, Mac, laptop or a computer to control Artie. The unit requires 4 AA batteries to operate and they are not included with the purchase. If you should have more than one child, you can run multiple Artie's simultaneously in the home or in the classroom.
To code, just learn how to use the drag and drop functions that will make coding a lot of fun. To help you out, it does come with some pre-coded designs and advanced coding apps.
Artie uses washable markers that are between 8 mm and 10.5 mm in thickness and at least 120 mm in length or more. When you purchase markers be sure they meet these standards. The package comes with 4 markers to get started.
Maintenance Requirements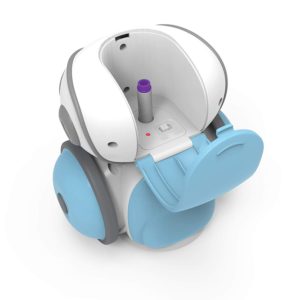 At times, you may have to clean Artie to keep him running in top shape. To clean his surface just use a damp cloth to wipe away dirt and grime. To clean Artie's wheels, use a damp cloth to clean the treads on the wheels. Then re-align Artie using the marker-parker.
If you should happen to get markers on the hard surface or on your clothes, just wash using warm water with mild soap. Let clothing hang to dry. If on the hard surface, use a paper towel with mild soap and warm water to wipe the area clean.
Product Specifications
Manufacture: Educational Insights
Model: 1125
Weight: 15.8 ounces
Dimensions: 7 x 5 x 8 inches
Power: Batteries
Batteries: 4 AA (Not included)
Warranty: 1-Year Risk-Free Guarantee
In The Box: 1 Artie Robot, 4 Washable Markers, Quick Start Guide, & Activity Cards
Product Rating & Reviews
This product is rated 4.1 stars by 37 customers which is very good. You can read all of the customer reviews by clicking on the link.
Questions People Are Asking About The Product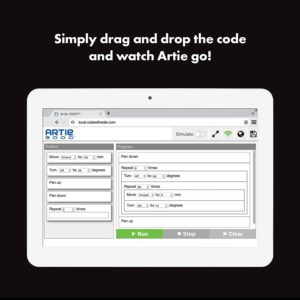 Below are some of the questions people are asking about this product.
Question: What if Artie won't connect to my device?
Answer: Make sure Artie's power switch is turned on and the batteries are fresh. You can also reboot Artie by switching him off, waiting 30 seconds, and powering him back on.
Question: Can I use my phone to code with Artie?
Answer: Artie works best using a computer or tablet. Artie's interface works best with large screens.
Question: Where can I draw Artie?
Answer: Artie draws only on one sheet of paper at a time. The paper must be placed on a hard flat surface. You can use tape to hold down the paper. Always place Artie in the center of the paper when ready to run a drawing program.
Question: What kind of paper can I use with Artie?
Answer: Artie's pre-programmed first lessons need a minimum of 8.5" x 11" or A4 sized piece of plain paper. You can use larger ones if you like.
Question: What if Artie slows down or takes a break?
Answer: Artie made need fresh batteries. Replace the batteries following the battery installation instructions from the Quick Start Guide.
Question: Can Artie fall off the edge of the table?
Answer: Although Artie is a smart robot, he does need someone to re-direct him to ensure he does not fall off the edge. While programming Artie, it is always important to factor in measurement of space to keep him safe. Always place Artie in the center when running a drawing program.
Question: Can you use other markers with Artie?
Answer: Yes. Artie uses washable felt tip markers between 8 mm and 10.5 mm diameter in thickness. The length of the marker must be at
least 120 mm or more.
Question: How do I use this with an amazon fire for kids?
Answer: When you have installed Artie's batteries, switch him on. Open Wireless settings on your Fire tablet. Select Wi-Fi to view the available Wi-Fi Networks. Select Artie. Open a browser window and type: Local.CodeWithArtie.com The Artie User Interface will open and Artie is ready to roll! You do not need the internet, Artie will communicate directly with Amazon Fire.
Question: Would a Chromebook be compatible to Artie?
Answer: I have used Artie with a Chromebook. You just connect to Artie and use a browser to read his user interface from the local network. You aren't actually downloading anything, so Chromebooks work fine.
PROS
A great way to learn coding.
Your child is the designer and creator of the code for Artie to use.
Helps children develop coding skills.
Artie has its own built-in Wi-Fi server.
You can operate multiple Artie robots simultaneously.
Has a 365 day risk free guarantee.
CONS
Price
Requires 4 AA batteries that are not included.
Requires a tablet, laptop, or computer to use.
 Shop Artie Drawing Robot
You can shop for the Artie 3000 by clicking on the image below. You will be taken to Amazon where you will find the latest price and can place the order.
As an Amazon associate, I earn from qualified purchases.
Go back to the Pros Cons Shopping home page.
Comes with Four Washable Markers
9.0/10
Helps Children To Develop Coding Skills
9.0/10
Artie Has His Own Built-In Wi-Fi Server
9.5/10
You Can Operate Multiple Artie Robots Simultaneously
9.0/10
Pros
Helps children develop coding skills.
Artie has his own built-in Wi-Fi server.
You can operate multiple Artie's simultaneously.
365 day risk-free warranty.
Cons
Price.
Requires 4 AA batteries not included.
For children ages 8 and up.